Cognition Delivers "Marauders" in ACES
Marauders, a tense, noir-ish thriller releases by Lionsgate Premiere and director Steven C. Miller, recently became the first feature finished in Cognitions new 4K digital intermediate theater. Senior colorist Mike Eaves collaborated with Miller and award-winning cinematographer Brandon Cox …
Cognition Continues Expansion, Debuts 4K DI Theater
Hybrid post-production facility Cognition has completed construction of a 4K digital intermediate theater as part of its ongoing multi-million dollar expansion. Designed for finishing studio and independent features, the theater is among the most technically sophisticated in Southern California…
Preserving the Past and Creating 3D Models for Hollywood Filmmakers (Cognition's R+D for Non-Profit, The Arc/k Project)
The Arc/k Project, a new nonprofit focused on digital preservation, plans to create 3-dimensional records of the world's most endangered cultural assets while providing Hollywood filmmakers with…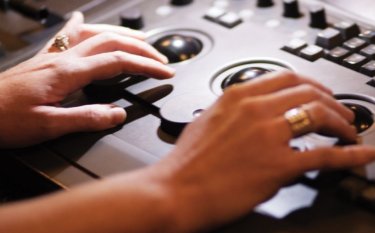 ICG Magazine: Women In Post – Featuring Cognition's Head of Post Production, Eileen Godoy
ICG's technology expert, Debra Kaufman, sat down with four women in post-production – including Cognition's Eileen Godoy – to learn about their experiences, as well as how changes in technology are impacting their crafts.
Featured on Vice: When Will Virtual Reality Become Reality?
"There were moments at VRLA where I took off my headset and felt like I had woken up from a dream. VR production house Cognition created a space using 12″ sculptures by Kris Kuksi, transforming them into 24-foot-high columns ending in a massive temple-like edifice."
Cognition's EP, Eileen Godoy, Explains Why They Recommend ACES To Their Clients
"I think the ACES workflow is a big deal. The facilities at which I worked in the past had proprietary workflows, so it as hard for any studio or other post facility to mimic what we did. With ACES, it's a big move to standardize workflows."
AFCI/Cognition Present Panel Highlighting 3D Photo Solution For Film Commissioners
Photogrammetry seems like a fabricated word, however it is a very important tool, used by the likes of scientists and geologists. In simple terms, it is the means of making measurements from photographs, where exact positions of surface points are recovered. Some uses of photogrammetry include the satellite tracking of tectonic motions, research of the migration patterns of swimming fish and the flight patterns of birds and insects.
How a Beloved World Heritage Site Became a Battlefield. And What's Next.
Meet the historians, archeologists, and Syrian civilians risking their lives for a piece of world heritage in Palmyra.
Equipped with bulletproof vest and helmet, Dr. Mechtild Rössler set off in an armored vehicle last April toward Palmyra, Syria. Bustling along the dusty road, she knew that the area had not been entirely de-mined.